SCHEFFER Luc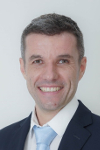 Chief of Manufacturing Technology
BIOGRAPHY
Luc has been working in Engineering in the Aerospace sector for 12 years.
He is currently the Chief of Manufacturing Technology in Rolls-Royce.
In this role, he is responsible for developing the Manufacturing Technologies used in RR across the Technology Readiness Levels. From a bright idea at Readiness Level 1, to the mature solution used in the shop floor environment at readiness level 9. His team is leveraging the Academic and Public-Private partnership ecosystem available in Singapore to deliver significant benefits through S$100m portfolio.
In October 2017, he joined Rolls-Royce Singapore as the Programme Manager for Smart Manufacturing. The S$70 million programme focuses on developing next-generation aerospace manufacturing, maintenance, repair and overhaul (MRO) capabilities enabled by advanced processes, automation and digital technologies.
Prior to Joining Rolls-Royce, Luc worked for A*STAR as a Senior Project Manager. He managed several projects with Industrial Members of the Advanced Remanufacturing and Technology Centre (ARTC), and drove the construct of a new Public-Private Programme which was to become the Smart Manufacturing Programme with Rolls-Royce.
Luc also spent 4 years in France working for Safran Helicopter Engines where he was responsible for the transfer of an Engine Programme from Rolls-Royce to Safran following a sale. That involved transferring 30 years' worth of Engine design and development information, as well as all the available hardware (Engines, spares, machines, tooling, fixturing). This 4-years project was completed on time and on budget.
Following his graduation, Luc was hired and trained by Rolls-Royce on their Engineering Graduate Leadership Programme and spent the first 7 years of his career working for Rolls-Royce in various Engineering roles and locations including the UK, Scandinavia and the US.
He has a Master of Engineering from the National Engineering School of Metz, France.